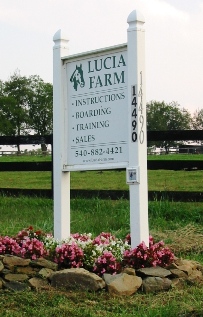 Lucia Farm is a premier equestrian facility located in Lovettsville, VA - the heart of Northern Virginia's wine country. It was built and established by the current owner, Dru Lucia Roia, in 1995 and has provided public lesson programs, camps, clinics, shows, and special events for over 17 years.
The 21-stall facility with both indoor and outdoor arenas provides our boarders and students with first-rate amenities in a supportive and friendly environment for both horse and students alike. The facility is open to the publc and is available year round for those wishing to trailer in. For ring use fee, see our Fees & Payments page. Facility rental is also available for larger events. Please contact us to schedule.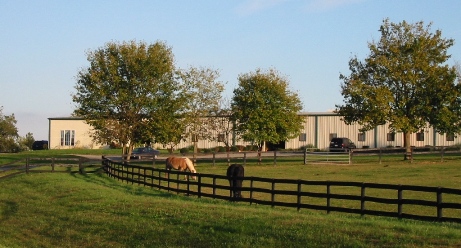 We have a well developed lesson program with safe, well-trained wonderful school horses suited to student riders of all skill levels from novice to experienced. Private, semi-private, and group lessons are given Monday through Saturday with flexible sheduling. Most lessons can be scheduled with Ms. Roia who has an extensive eductation in Dressage and jumping, and is a licensed Parelli Professional.

At Lucia Farm students are encouraged to come early, stay late, and spend time with the horses. Lessons are way more than riding - students are taught the fundamentals of horsemanship starting with preparing their horses by catching, grooming, and saddling. As part of every lesson students are taught ground skills to include the Parelli 7 Games as a preamble to their riding lesson. Safety, fun, and the fundamentals of horsemanship are all part of the program at Lucia Farm.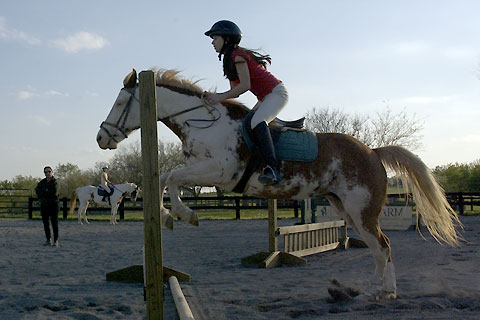 In addition to boarding and the year-round lesson program, Lucia Farm hosts numerous clinics, shows, camps, badge work for scouts, and other special events throughout the year. All services offered at Lucia Farm are arranged, organized and supervised by the owner-manager Dru Lucia Roia, who is assisted by other talented and dedicated equestrian personnel.
Phone: (703) 969-5917
Mailing Address: P.o. Box 70, Lovettsville, VA 20180

What's going on in 2019
(See 'Schedule' page for more information.)
---

Clinics:

March 29-31 Riding Season Prep with Meggie Andrews.

April 25-28 Ranch Horse Versatility with 6* Master Instructor Dave Ellis.

June 7-9 Advancing Horsemanship with Jake Biernbaum.

July 12-14 Horsemanship Clinic with 5* Master Instructor John Baar.

August 30-Sept 1 Horsemanís Clinic with Jake Biernbaum.

Sept 2-8 Horse Development with Jake Biernbaum.

Oct 11-13 Beyond the Basics with Pat Parelli.



Full and Half Day Horsemanship Camps Monday thru Friday for children ages 7-14

June 17 thru 21
August 5 thru 9
August 12 thru 16


Special Events
Badge Work
Play Dates
Call (703) 969-5917 to plan your special event